How many times has someone shown you a Windows tip or trick that you've ended up using once or twice – then forgetting about it?
According to the long-lasting myth originating from Dr. Maltz's audiobook Psycho-Cybernetics, it takes us 21 days to form a new habit.  Whether this is true or not, forming a habit can be challenging if you can't see a clear benefit.
This is why we've come up with ten Windows 10 features that are easy to find, learn and really can improve your desktop experience.
So, let's get started.  Here are ten Windows 10 features you'll want to turn into a habit:
1. Crop to your heart's content with the Snipping Tool
You'll forget the print screen key even exists with this handy screen grabber.  To access this tool, click the Start button on your desktop, search for Snipping Tool and select it from the search results.
A small rectangular box will pop up, usually in the lower left of your screen.  There are 4 snip modes to choose from – but you'll most likely use the default Rectangular Snip for general everyday use.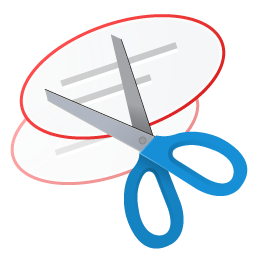 Simply click New to activate a new snip, and the screen will temporarily freeze on the current page you're on.  Now use your mouse to draw a rectangle around any part of the page.  A new window will immediately open where you can view your snip, save a copy to file, add highlights and more.
What would I use the Snipping Tool for?   
The big advantage the Snipping Tool has over the traditional print screen key is the ability to 'snip' any sized selection you want.  There are many reasons you might like to do this, but here are some useful ideas:
Want to crop a webpage? By using the Snipping Tool to crop a webpage, you can remove unnecessary imagery such as opened desktop pages and favourite bar links.
Need to crop out a head-shot of yourself? There's no need for fancy editing software.  The Snipping Tool is perfect for quickly cropping part of a photo and saving it to your desired location.
Quickly need to share parts of a document you're working on? The Snipping Tool makes communication faster as snipped images can be easily copied and pasted.
The Windows 10 October 2018 update contains a new snipping tool, called Snip & Sketch.  This contains most of the features available in the traditional version, but with some added benefits, such as the ability to annotate your snips.
2. Find storage hogging apps and files
We've been used to this feature on our smartphones for years now, so it makes sense that Microsoft has added this handy tool to Windows 10.  Gone are the days of endlessly sifting through files to find out what's taking up all your space.
Simply click the Start button on your desktop and search for Storage.  After choosing the drive letter you want to explore, a graphical overview of your used space will be displayed.
Ever feel you get notified of low disk space at the worst possible time?  Part of the Windows 10 Storage settings, Storage sense allows you to set Windows to automatically free up space.
To customise Storage sense, use the Start button on your desktop to search for Storage – then under PC Settings, select Storage.  Under the Storage sense menu, ensure the toggle is set to On, and click Change how we free up space automatically.  You can choose settings such as when Storage sense will activate, and how to deal with temporary files.
3. Be more organized with virtual desktops
Having everything in one place means only one thing: distractions.  If you're using one monitor to view all your apps, you may find Windows 10 virtual desktops useful.
A virtual desktop is a complete copy of your desktop, that you can switch to in an instant.  You can have multiple desktops, each one containing different things.
Separate work life from your social life, by having all your social media, music apps and games in one place, for example.  You can then make a simple switch to view all your work-related apps such as Microsoft Office and email on another virtual desktop.
What you choose to separate between virtual desktops is up to you.  But here are some suggestions:
Avoid distractions by keeping all your work-related apps on one desktop.
If you're prone to having many apps open at one time, you can reduce clutter by tucking less used apps away on an additional virtual desktop.
Quickly create a desktop for another (trusted) person to use without requiring another user profile.
How do I create a new virtual desktop?
Creating a new virtual desktop in Windows 10 is easy.  Just click Task View next to the Start button, and then New desktop.  A new virtual desktop will be created instantly.  You can also create a new desktop by pressing Ctrl+Win+D.  Switching between them is also a breeze – just press Ctrl+Win+Left and Ctrl+Win+Right.
4. Does anyone have a sticky note? Windows 10 does. 
No more having to search for spare sticky notes.  Windows Sticky Notes does what it says on the tin.  You might question the need to use this when you could place a note in Notepad or Microsoft OneNote.  However, Windows Sticky Notes nicely marries simplicity with pleasing aesthetics, making it a top choice for everyday reminders.
So where are these sticky notes?
Microsoft Sticky Notes is available from the Microsoft Store.  You can access the store directly here.
Once installed, you can access the app through the start menu:
Start menu > Search Sticky Notes > Select Sticky Notes from search results
Tips on what you could use Microsoft Sticky Notes for:
Jotting down notes during a telephone call.
To do lists.
Informal meeting reminders.
Try using Windows Sticky Notes for a few days and you might soon be hooked.  After all, virtual sticky notes don't have a tendency to fly off your desk!
5. Get better sleep with Windows 10 Night Light
Calling all night owls.  Did you know that your screen emits blue light, which can keep you awake at night?  Use Windows 10 Night light to display warmer colours – which will be easier on your eyes.  You can even set it to turn on automatically.
To get to the Windows 10 Night light settings:
Start > Settings > System > Display > Night light settings
You may find your eyes take a little while to adjust to the new setting, but you'll soon forget anything has changed.
As well as the Night light, Windows 10 also features Dark Mode, which aims to reduce eye strain with night-time computing.  It does this by turning (nearly) everything black.  With the Windows 10 October 2018 Update this also applies to apps, File Explorer, Settings and the App Store.  Note that this doesn't change the look of Microsoft Office apps or the Microsoft Edge browser.  They have their own settings:
Edge browser dark mode:
Open Edge browser > Settings > Choose a theme > Change setting to Dark
Microsoft Office Dark Mode:
Open Microsoft Office > File > Account > Office theme > Dark
To get to Windows 10 Dark Mode settings:
Settings > Personalisation > Colours > Scroll to bottom > Choose your default app mode > Change toggle to Dark. 
6. You can now finally see your clipboard history
This feels like a feature which should have been available years ago.  But it's better late than never.  And with Windows 10's October 2018 Update, you can do even more.  See what you've copied, pin frequently used items and even sync your clipboard across multiple devices.
To get to your clipboard settings:
Start > PC Settings > System > Clipboard history > Ensure toggle is set to On.
To access your clipboard history via keyboard shortcut press Windows key + V (add that to a Windows sticky note!).  A box with all your copied content will appear.  To paste something simply click on the relevant box.
A really handy feature of the clipboard history is the ability to pin copied items.  To do this simply click the pin icon to the right of a box.  This is helpful for when you frequently need to copy an item.
7. No more emailing yourself photos
Despite feeling cumbersome and unintuitive, many of us are still emailing ourselves photos from our phones.  Although third-party applications have been around for a while to provide a better method, Windows 10 now has its own dedicated phone transfer app: Your Phone.
Android users also have the added benefit of being able to send SMS messages via the desktop – with messages still being sent through the phone.  Currently, Your Phone will only allow you to access the last 25 photos you've taken.  Hopefully, this will increase in future updates.
To find out how to get the Windows 10 Your Phone app, click here.
8. Access the emoji keyboard in an instant
Emoji originated on Japanese mobile phones in 1997, and are now considered a large part of western culture.  But many people still don't realise there's an emoji menu on Windows 10.
Windows key + full stop.  Choose wisely!
Note:  To use this feature you need to have Windows 10 October 2018 Update installed.  For more information visit the Microsoft support guide about this update.
9. Use your phone to auto-lock your PC
Forgetting to lock your screen?  Windows 10 includes a setting called Dynamic Lock, which when turned on and paired, will auto-lock your PC when you move out of range.  To turn this setting on:
Settings > Accounts > Sign-in Options > Dynamic Lock > Tick 'Allow Windows to automatically lock your device when you're away'.
You will need to pair your phone to your PC using Bluetooth.  To find out more on how to do this here.
10. Shut off distractions with Focus assist
Tired of tasks taking forever to complete, because you keep getting distracted?  Whilst Windows can't silence your noisy neighbour, it does provide a handy feature called Focus assist.
Previously known as do-not-disturb mode before the Windows 10 April 2018 Update, Focus assist adds a few more options.  Priority only allows you to add apps to a priority list, with the rest being sent to your Action Centre.  And Alarms only hides all notifications, apart from alarms.  You can also set an automatic time range for when Focus assist is active.
To access Focus assist settings:
Start menu > PC Settings > Find a setting > Type Focus assist settings
Try using one extra Windows 10 feature for a week
So, there they are. Ten Windows 10 features which could improve your desktop experience every day.
Why not start off by choosing the one that sounds the most useful to you? Set a reminder to use it at least once a day for the next week.  Then at the end of the week, decide whether you want to continue using it.
If you would like more IT advice, or to learn how to use IT to boost productivity in your workplace, get in touch with us today.